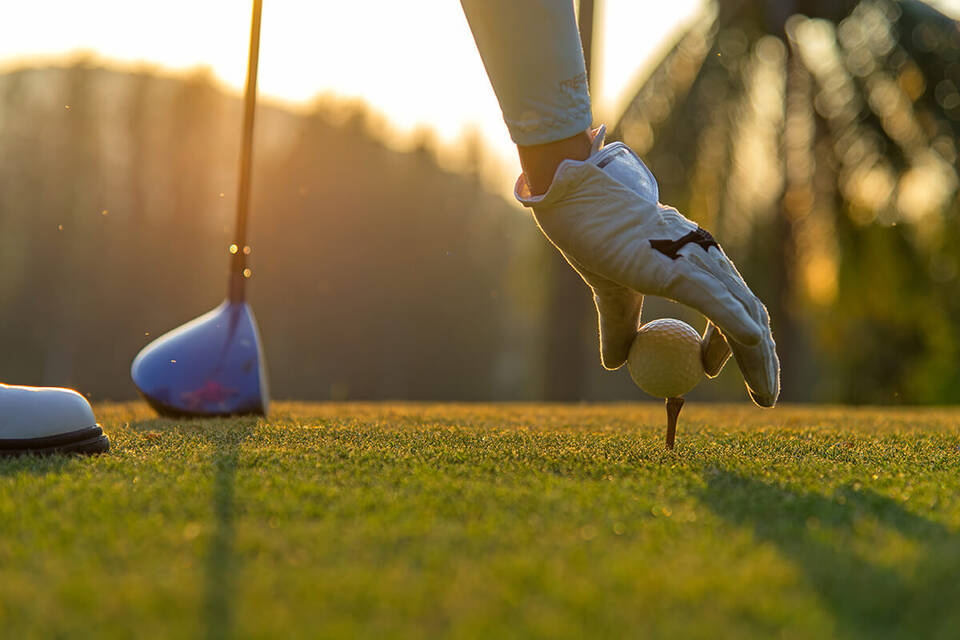 September 12, 2023
Amblebrook Explores Gettysburg's Premier Golf Experiences
Add More Everyday Joy to Your Game with Amblebrook
As you consider the joys of your golden years, Amblebrook invites you to discover a world of exceptional golf experiences just minutes from your doorstep. These courses not only provide endless hours of fun and relaxation, but also the opportunity to immerse yourself in the rich history and natural beauty of Gettysburg – with each swing of the club, you'll find yourself connecting with the past, enjoying the present, and creating a future filled with unforgettable moments on the greens.
For those with a passion for the fairways, the following courses provide an enticing reason to call Amblebrook home – as the members of our two resident‑led golf clubs will be the first to tell you!
With so many excellent courses only a short drive away, Amblebrook's residents enjoy all the benefits and conveniences of living in a golf community – but without any of the associated fees. If you're ready to experience an active adult community that offers more everyday joy, contact our team today to learn more about our beautiful homes, request a personal tour, or ask about life in Gettysburg's premier 55+ community.
Meadow Brook Golf Course
The Meadow Brook Golf Course, designed by Robert Weaver and opened in 2003, is a testament to the beauty of nature and golf's artistry coming together. Spanning 6,290 yards from the longest tees for a par of 72, this 18‑hole course offers a blend of interesting challenges and laid‑back atmosphere, making it perfect for slightly more experienced golfers. As you traverse the landscape with its creeks, trees, streams, ponds, and bridges, you'll be captivated by the views, including glimpses of Gettysburg Battlefield's iconic Little and Big Round Top. With its rolling green pastures and high grasses, Meadow Brook's course is a pleasure to play on and one of the most economical options in the area for weekday golf.

Cedar Ridge Golf Course
If you're seeking a golf course that accommodates all skill levels, look no further than Cedar Ridge Golf Course. With four sets of tees and playing over 6,000 yards at its longest, it strikes the perfect balance between challenge and enjoyment. From trees and water to undulating greens, every hole presents a new opportunity to test your skills, but fear not – even novice golfers will find the wide‑open layout forgiving enough to come back for more. With amenities like a fully‑stocked pro shop, banquet facilities, and a bar and grill, Cedar Ridge provides a complete golfing experience for retirees looking to spend their days on the fairway.
Quail Valley Golf Course
Since its opening in 1993, Quail Valley Golf Course has been a beloved choice for local golfers of all calibers. Offering a distinctive challenge with two different nines, this 18‑hole championship course captivates players with its variety and beautifully maintained greens. The front nine winds through a mature stand of trees, while the back nine opens up with water hazards on seven of the holes, and the signature par‑3 island green at No. 13 is a true test of skill and nerve.
Quail Valley's commitment to providing a welcoming and imaginative course shines through, promising a mix of short and long holes that keep players engaged from start to finish. And for a taste of local history, don't forget to stop by The Loft Clubhouse Grill for a sandwich and a cold draft beer in a historic barn with woodwork dating back to the 1860s!

Gettysburg National Golf Course
For those in search of some of the smoothest and quickest greens in the area, Gettysburg National Golf Course (formerly known as Mountain View Golf Club) is a hidden treasure not to be missed. This picturesque course is just minutes from the Historic Gettysburg Battlefields and offers beautiful views of the Catoctin Mountains from its Pre‑Civil War clubhouse. With 18 meticulously manicured holes catering to all skill levels, this course guarantees both playability and challenge, with a natural grass practice range, short game area, and putting green all providing opportunities to sharpen your skills.
If you're interested in personalized golf getaways for weddings, friends groups, or business outings, Gettysburg National Golf Course has also partnered with several local resorts and hotels to offer curated experiences and historic accommodations like the Inn of Gettysburg and the Historic Fairfield Inn, which dates back to 1757 and once hosted Robert E. Lee.
The Bridges Golf Club
While it's technically in Abbottstown, we would be remiss not to mention the Bridges Golf Club – especially since it's a local favorite of Amblebrook's Golf Gals and Golf Guys resident clubs! This public 18‑hole, par 72 golf course is known for its excellent course conditions and all‑turf practice areas. Guests can also enjoy "stay and play" specials with overnight accommodations in the club's guest rooms, a fully‑stocked pro shop, delicious food at the Green Horizon Grill, and charming views of the Adams County countryside.
The Bridges Golf Club prides itself on providing an engaging golfing challenge, and with a variety of holes, strategically placed hazards, and challenging greens, it's a course that keeps golfers of all levels on their toes. The defining characteristic of this well‑designed course is its namesake bridges, which span wetlands and a meandering creek, adding an extra touch of beauty to your golfing experience.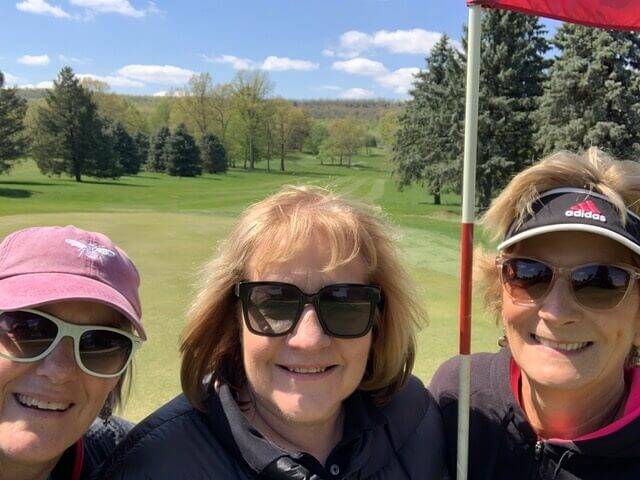 Hear What Amblebrook Residents Have to Say
With so many excellent golf courses near Gettysburg to choose from, we asked some Amblebrook residents to share their favorite places to play and what they enjoy most about the courses nearby. For golfers like Donna B. and Jen F., the social aspect is a major draw – as Donna puts it, "I love the challenge, friendships, laughter, and being outdoors."

Another common point of praise is the natural beauty of Gettysburg's top golf courses. Barb H., who has been playing golf off and on since the age of 12, says, "I most enjoy the rolling fairways, hilly terrain, and beautiful trees." Georgia L., another avid golfer and a member of the Amblebrook Golf Gals, concurs: "We are outdoors, with beautiful landscapes, socializing with friends, and often enjoying a drink or snack afterwards. My favorite is probably The Bridges in New Oxford because it is where I learned to play and where we take lessons.  The course is varied, visually beautiful, and they have a wonderful restaurant overlooking the course."
Even experienced golfers find plenty of opportunities to keep their skills sharpened – Amy C. and Laura B., who have both been golfing for over 15 years, emphasized the convenience and accessibility of Gettysburg's courses, noting that it's easy to book consecutive tee times and that the courses are well maintained, affordable, and always welcoming.