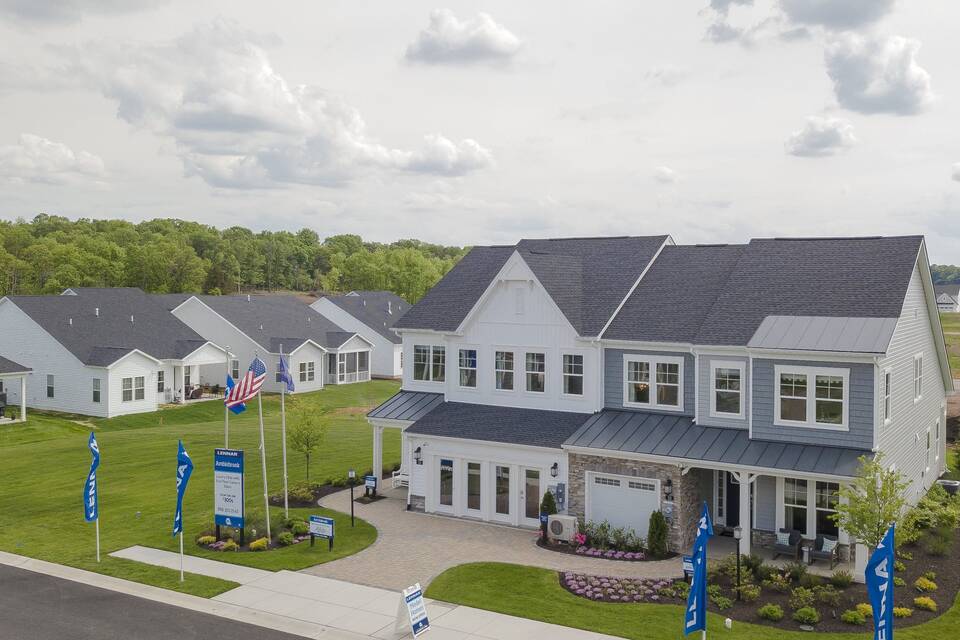 August 19, 2021
Amblebrook Features Award-Winning New Home Builders in Gettysburg
Living in Gettysburg, PA provides a special opportunity to enjoy charming small‑town ambiance along with an abundance of amenities and vibrant, local culture. With scenic surroundings, proven tax benefits, and a dynamic area overflowing with possibilities, there's no question that Gettysburg is an ideal retirement destination. The only thing left to determine is your home base. Amblebrook's innovative new home builders in Gettysburg are a great place to start.
More life. More style. Create the lifestyle you've imagined.
As you think about your next home, we understand that you're looking for that perfect combination of function, features, and fun. At Amblebrook, we offer something for everyone.  All of our homes provide one‑level living, bright open rooms, and exciting ways to expand the space and make it your own. Along with numerous included features and built‑in efficiency, each home has the flexibility to be transformed with special appointments, personalized finishes, or designer options such as sunrooms, lofts, bonus spaces, gourmet kitchens, upgraded appliances, comfort selections, and more.
Award‑winning. Forward‑thinking. Choose Experienced Builders You Can Trust.
We're especially proud of our award‑winning builder team and their genuine focus on exceeding the needs of today's active adult homebuyers.  We invite you to meet our new home builders in Gettysburg, explore their product offerings, and learn about their customer‑focused approach to homebuilding. With years of experience, their knowledgeable teams will guide you through the interactive process from start to finish. If you need to move soon, be sure to ask about quick move‑in homes that are often available.
MEET LENNAR: Villa Homes from the Low $300s
The team at Lennar has reimagined the home buying process by including the most desired features at no extra cost to you. Their Everything's Included®️ program sets the company apart from other new home builders in the Gettysburg area.  The innovative approach means that luxury features such as granite countertops, wide plank flooring, stainless steel appliances, home automation features—and more—are included in your new home at no extra cost.
Specially selected for Amblebrook, the Lennar home offering includes three elegant 1‑ and 2‑story villas that live like single‑family homes. Each floorplan features custom‑designed amenities and modern, energy‑saving benefits. You'll love the thoughtful design, ample storage, and opportunities for additional bonus spaces.
John, a recent Lennar homebuyer, explained that the flex room was one of the main reasons he and his wife, Teresa, chose the Jennings floor plan. The adaptable space gives them the opportunity to create the elegant dining room Teresa imagined for family gatherings and everyday use.  John added that they also appreciate the expansive countertop area in the kitchen and the long list of design features that are part of the company's Everything's Included®️ program. Another flexible space that caught the couple's attention is the loft, which they plan to use as a reading area. "We especially like the fact that there are windows in the loft that provide plenty of natural light," John said. "It's just one more reason we chose the Jennings."
Fully decorated models of the Lincoln,  Laguna and Jennings are available for you to tour at the model park. Insider tip: another new floorplan, The Bancroft, is now available at Amblebrook! See details below.
Lincoln
1,483 square feet
2 bedrooms, 2 baths
1‑car garage
From $316,990
Laguna
2,121 square  feet
3 bedrooms, 2 ½ baths
2‑car garage
From $351,990
Jennings
2,349 square feet
3 bedrooms, 2 ½ baths
1‑car garage
From $341,990
Bancroft (Now Available!)
This brand new floorplan offers convenient one‑story living with open concept design and outdoor living space!
Favorite Features:
Side‑entry foyer which opens into the main living space
Open concept family room, kitchen and dining room
Chef's style kitchen with oversized center island and walk‑in pantry
Spacious dining room with large windows
Covered patio with sliding door access from family room
Luxurious owner's suite and en‑suite bathroom with walk‑in closet
Two‑car garage
Additional Options:
Designer Select: Upgraded flooring, quartz countertops, kitchen appliances and more
Tray ceiling detail in Owner's Suite
Family room fireplace
MEET CARUSO HOMES: Cottage Homes from the Low $300s
If you've been looking into new construction homes in Gettysburg PA, you'll appreciate the experienced team at Caruso Homes and the extra time they invest in understanding your needs.  With stunning craftsman‑style features—inside and out—each Caruso home offers one‑level living, charming details, and the flexibility for personalization.  Selected floor plans provide the opportunity for second‑floor living areas and valuable extra storage spaces.
With a generous focus on natural light and volume ceilings, these homes provide sophisticated, functional spaces such as gourmet kitchens, elegant owner's suites, and plenty of extra areas for entertaining family and friends.  A recent conversation with Bill, a new Caruso homeowner, accentuated the value of the bright, open spaces. "Light is everything," Bill said, as he discussed his reason for choosing the Kellaway. "I don't want to feel compressed in a home."  He and his wife were living in Florida when they began researching homes in the Mid‑Atlantic area. Their only requirement was to find a community with a pool, making Amblebrook an excellent choice. With the Kellaway, the couple also found a bright, open floor plan that reminded them of their home in the Sunshine State. They especially enjoy the combined family room, dining, and kitchen area that is flooded with light from an abundance of windows. As someone who enjoys sketching and oil painting, Bill genuinely appreciates the value of natural light in his surroundings. Along with the home's visual attributes, he stressed the sense of well‑being, recommending the whole‑house humidifier for year‑round comfort. He summed up his choice of the Kellaway by saying, "This was the glove that fit us."
When you choose a Caruso home, you'll soon discover that the fun continues beyond the main living space, with optional features such as screened‑in porches (another feature Bill mentioned), sunrooms, patios and outdoor fireplaces. When you visit the Amblebrook community, be sure to tour the stunning Hayes and Kellaway models located in the model park.  And ask about a new floorplan, coming soon!
Hayes
1,957‑2,781 square feet
2‑4 bedrooms, 2.5‑3.5 baths
From $426,990
Ives
1,771‑2,416 square feet
2 bedrooms, 2 baths
From $396,990
Kellaway
1,661‑2,206 square feet
2 bedrooms, 2 baths
From $386,990
Puccini II
1,440‑1,850 square feet
3 bedrooms, 2 baths
From $366,990
MEET ELEVATE HOMES: Single‑Family Homes from the Mid $400s
The award‑winning team at Elevate Homes has decades of experience in building homes for discerning active adult buyers. Their exclusive Elevate Room concept invites you into the home design process to create a space that genuinely caters to your hobbies and daily routine.
We caught up with recent Elevate purchaser, Pam, to learn about her experience at Amblebrook. She was quick to acknowledge her sales associate—describing him as "kind and non‑pushy"—giving Pam and her husband the time they needed to make important decisions. They ultimately landed on the Haven, a home that checked every box on their wish list.  Pam loves the front porch, the inviting sense of arrival, and especially the bright feel of the home as it opens to the dining room, family room, and kitchen area—which also happens to be one of her favorite parts of the house.  Pam went on to describe the beautiful master suite with optional sitting room, and a secondary bedroom and flex room that are perfect for family visits. Along with the open‑concept home design, Pam explained that ample storage is a key feature that sold them on the house. From the "drop zone" near the garage entry, to a large kitchen pantry, convenient linen area, and spacious closets throughout the home, the Haven makes it easy for homeowners to downsize without giving up the things they love. Pam summed it up by saying, "We've lived in a lot of places through the years, so we brought plenty of dishes and other things with us. Yet, now we have so many cabinets, we haven't even filled them."  After our short talk, it's easy to see why Pam and her husband are happy with the home they chose. The icing on the cake? The screen porch they decided to add has become their go‑to relaxation space. It's where they enjoy having dinner, watching TV, and taking in the scenic views beyond their back door.
As a premier new home builder in Gettysburg, Elevate Homes provides an extensive list of lifestyle‑inspired floor plans—like the Haven—with choices that put you in control of the final design. While fine‑tuning your preferences, you can add a gathering space, invent a one‑of‑a‑kind reading nook, create an outdoor sanctuary, and more—the choice is yours.  To facilitate your decision process, Elevate has merchandised six fully decorated models at Amblebrook: Virtuoso, Adventurer, Curator, Unity, Inspire, and Enthusiast.
Virtuoso
1,794‑2,650 square feet
2‑3 bedrooms, 2‑3 bedrooms
2‑car garage
From the $445s
Adventurer
2,016‑2,972 square feet
2‑3 bedrooms, 2‑3 bathrooms
2‑car garage
From the $455s
Curator
1,767‑2,765 square feet
2‑3 bedrooms, 2‑3 bathrooms
2‑car garage
From the $440s
Haven
2,060‑3,182 square feet
2‑3 bedrooms, 2‑3.5 bathrooms
2‑car garage
From the $515s
Eden
2,200‑3,395 square feet
2‑3 bedrooms, 2‑3.5 bathrooms
2‑car garage
From the $525s
Unity
2,334‑3,912 square feet
2‑3 bedrooms, 2.5 bathrooms
2‑car garage
From the $530s
Inspire
2,487‑3,796 square feet
2‑4 bedrooms, 2.5‑4 bathrooms
2‑car garage
From the $540s
Enthusiast
1,626‑2,613 square feet
2‑3 bedrooms, 2‑3 bathrooms
2‑car garage
From the $435s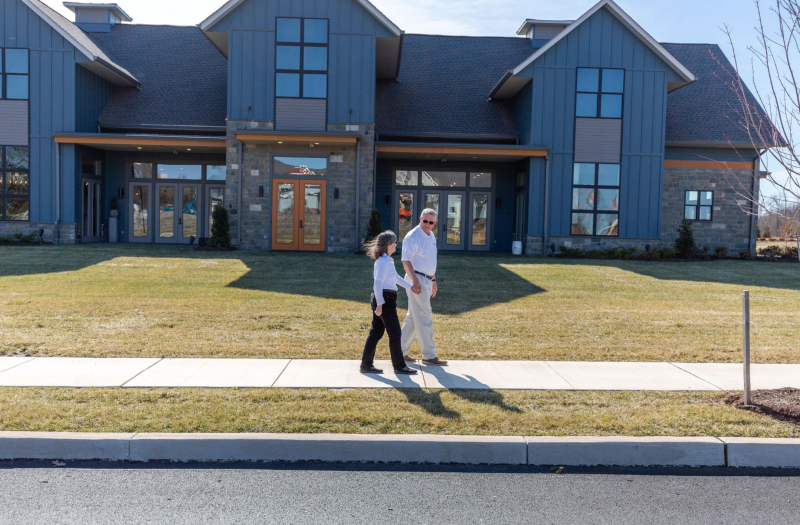 Start Planning Your Journey to Gettysburg.
Now that you've learned a little more about the new home builders at Amblebrook in Gettysburg, have you decided which home design best fits your unique lifestyle?  Are you looking for a quick move‑in home or planning a bit farther down the road? We invite you to dig deeper, take some virtual tours, and—most importantly—meet the onsite team to learn more about the specially designed homes in this popular 55+ community in Gettysburg PA.