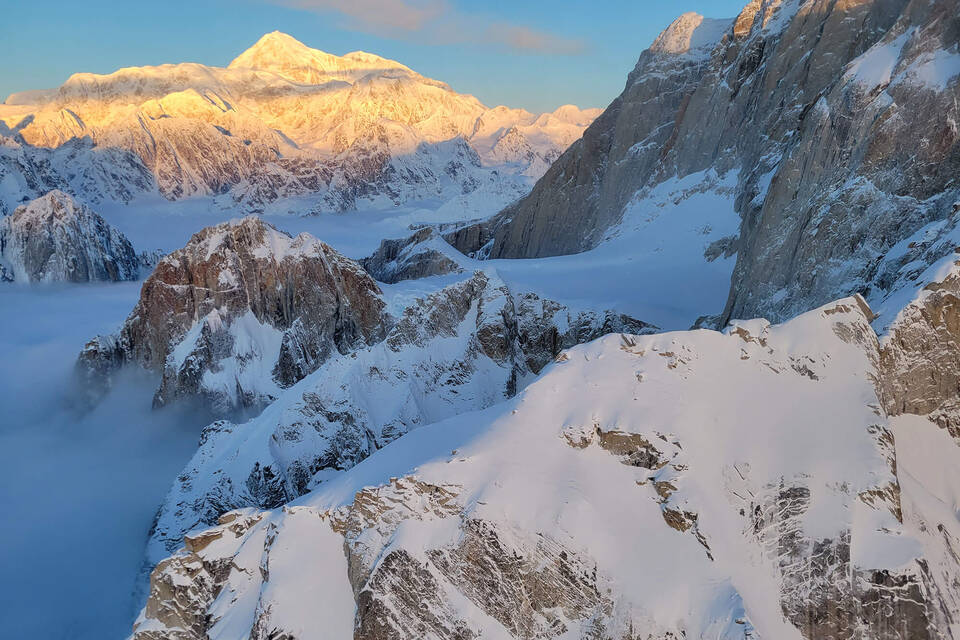 June 8, 2023
Amblebrook Neighbors Enjoy an Incredible Alaska Adventure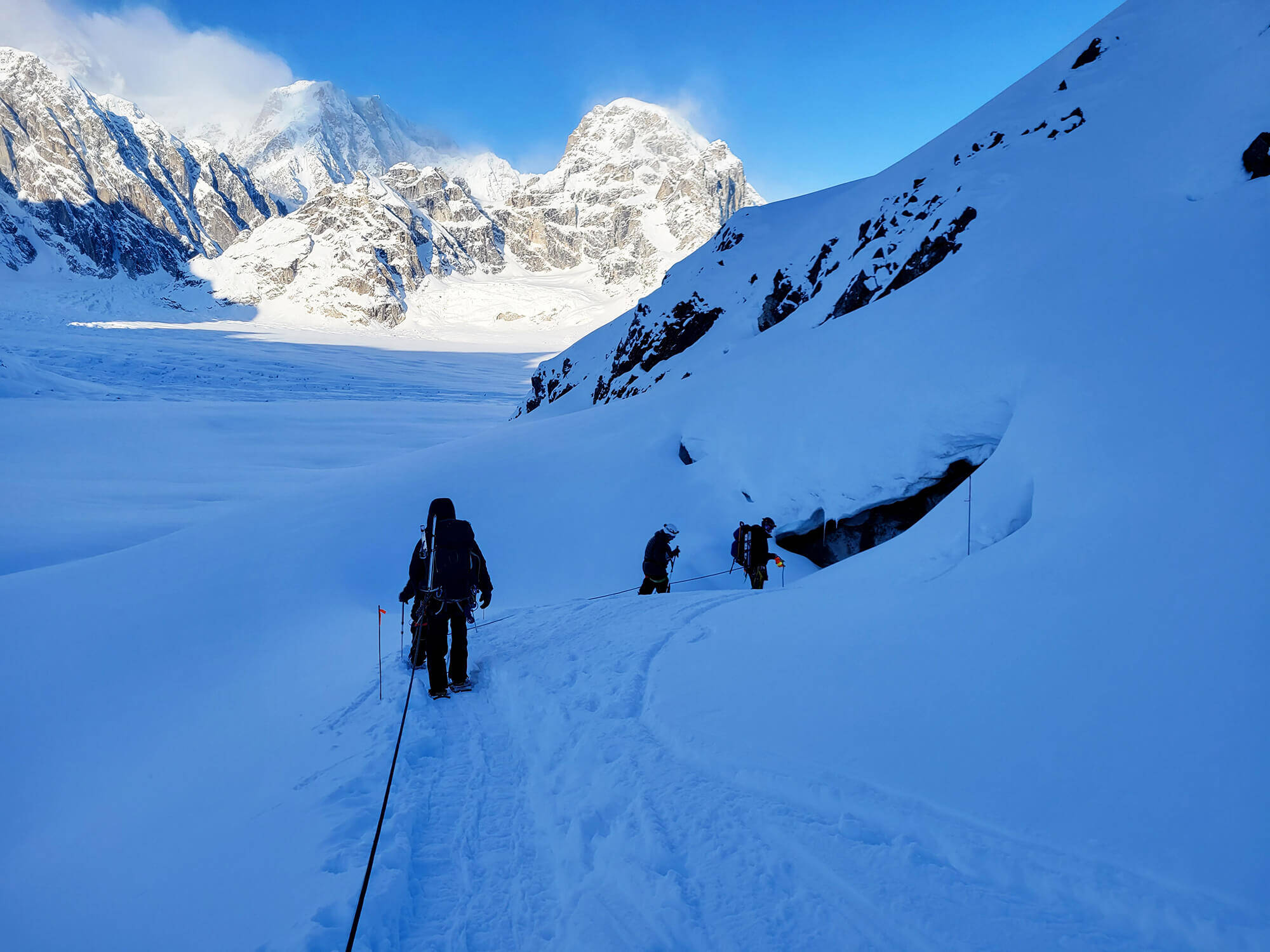 Life at Amblebrook is filled with good friends and amazing experiences that often begin with the simplest of circumstances. Recently, one resident read about an incredible Alaska travel adventure, mentioned it to a group of neighbors, and before they knew it, three couples were packing their bags for the trip of a lifetime.
It all started when Carroll and Kathy Johnson, Pete and Peggy Peters, and Joe and Pam Golec moved to Amblebrook, joined in a variety of clubs and activities, and learned how quickly new neighbors become friends. Then, one day, an article in a travel magazine caught Kathy's eye, she told her new friends, and—just like that—vacation plans to Alaska were underway.
After booking a package with the Sheldon family in Alaska, the three couples flew from Dulles Airport in Virginia to Anchorage, Alaska, via a stop in Seattle, Washington. Their excursion in The Last Frontier began in early November, with impressive tours around the Anchorage area along with a visit to Talkeetna, where they were treated to a dog sled ride through beautiful countryside.  Next came an experience beyond compare: a stunning 45‑minute helicopter ride through the mountains of Denali National Park to the Sheldon Chalet, perched on a 5,800‑foot‑high nunatak in the Don Sheldon Amphitheater of Denali's magnificent Ruth Glacier. "Landing on that helicopter pad attached to the charming chalet is an experience I'll never forget," said Peggy. "Our view from the nanatak was remarkable." Also known as a glacial island, a nunatak (derived from the Inuit word nunataq) is a mountain ridge that extends from an ice field.
The spirit of friendship that inspired the trip continued to grow when the six friends from Amblebrook met four delightful staff members at the Sheldon Chalet. In just a short time, the travelers became friends with the private chef, two wilderness guides, and host and concierge Ryan Sheldon, who is the grandson of the famed bush pilot, Don Sheldon.  "In addition to being a wonderful host, Ryan is an extremely talented young man who entertained us with his musical talents," said Pam.  "One night he spent almost three hours singing and playing his guitar as we all sang along."
While at the chalet, the group eagerly anticipated the possibility of seeing the Aurora Borealis, which is often visible there between October and March. As luck would have it, the full moon was so bright during the three night stay that the bright sky outshone the Northern Lights.  Yet, some determined souls stayed up one night until 2 a.m. to finally get a glimpse of the spectacular sight.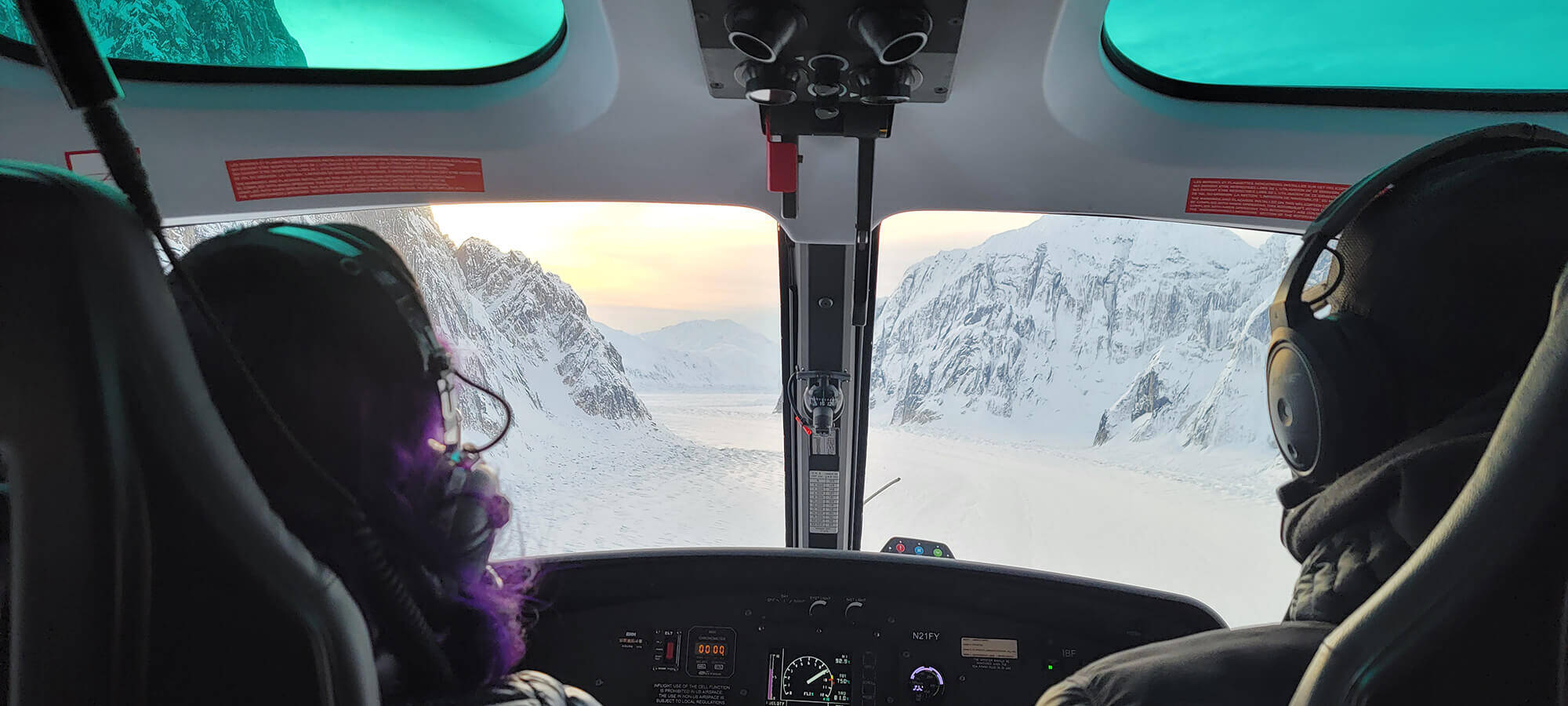 Off the Beaten Track
Throughout the excursion, the couples found many opportunities to veer off the beaten track and experience new adventures.  "With so many incredible things to see and do, we quickly learned how easy it was to adjust to no electronics, Wi‑Fi, Internet, or social media," said Joe.  "All of that seemed irrelevant when we were surrounded by nature in its purest form." While at the chalet, some in the group took advantage of a one‑of‑a‑kind opportunity to hike down the nunatak onto Ruth Glacier to visit an ice cave that had been discovered by two chalet guides only a few days before the travelers arrived.  Ice caves melt in the spring, so the five daring hikers were among the few who would brave the environment to experience it.
Unfortunately, the couples' time at the chalet was cut short by one day due to impending inclement weather that limited the safe window for helicopter flights. That change in plans later resulted in a surprise trip to Alyeska Ski Resort in Girdwood, which featured a 90‑minute helicopter ride above and through the breathtaking Denali and Chugach Mountains.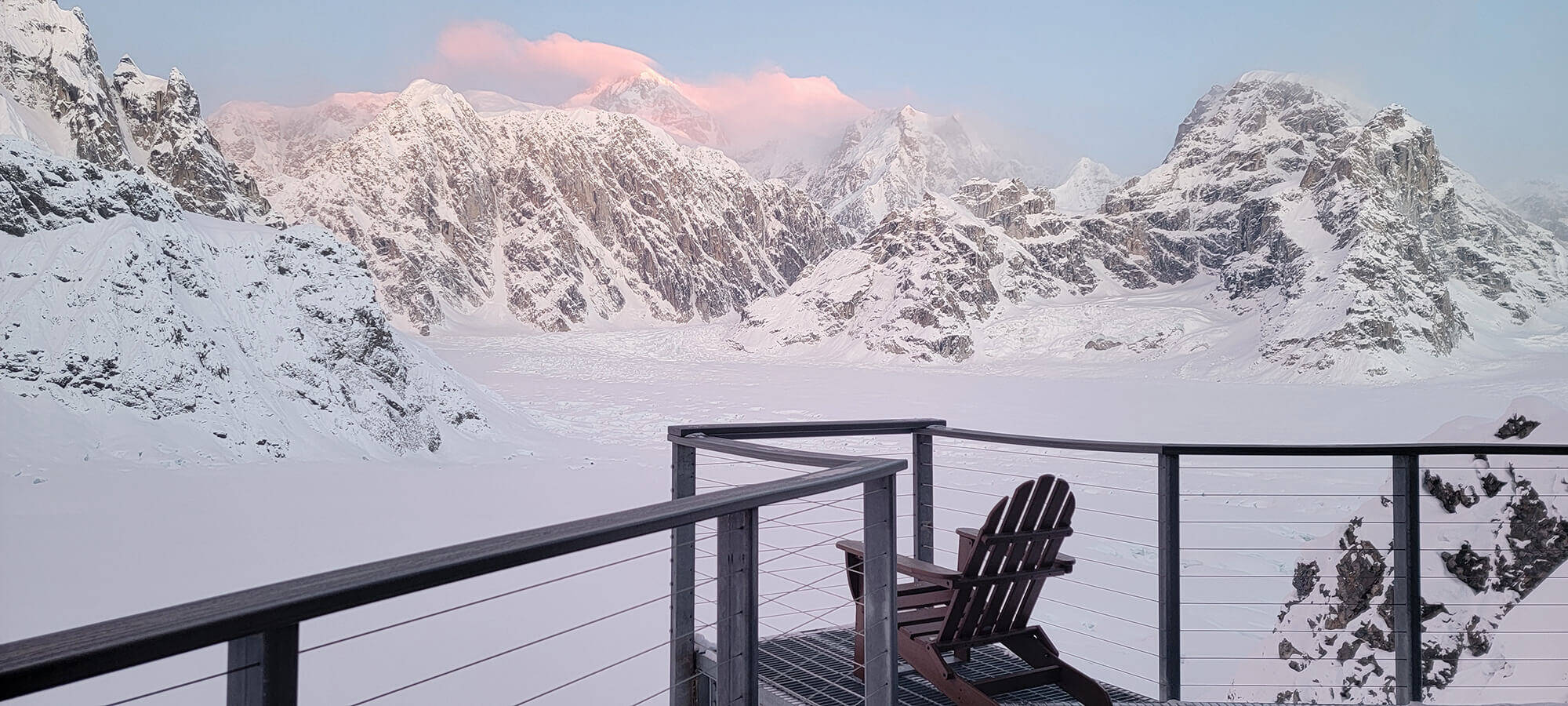 Making Friends and Memories
When members of the group were asked what impressed them most about their trip to our nation's 49th state, Carroll quickly mentioned the majestic views, saying, "From the peak of Mt. Denali to the vast Sheldon Amphitheater and the Ruth Glacier, every sight was spectacular."  Reflecting on the trip, everyone agreed that they enjoyed each moment and wouldn't have changed a thing.  "For me, helicoptering over the Denali mountains was especially memorable," said Kathy. "Seeing this speck of a house on a nunatak that would be our home for four days is something I will never forget." Pete added, "The bonus is that we got to experience it with good friends that we met by living in a great community."
Time spent at the Sheldon Chalet was especially memorable.  On their last night there, the wilderness guides presented a "Not Newlywed Game" for the three couples that provided a full evening of hilarious hijinks. Before leaving, the travelers were given a video specially made by the staff to chronicle their incredible experience at the chalet.  Having enjoyed the couples' company so much, Ryan met the group back in Anchorage on their last night in Alaska to join them for dinner.
One month after the couples returned home, Ryan Sheldon flew to Philadelphia for a family event and then drove to Amblebrook to visit his newfound friends in their community environment.  "As soon as we took him to the clubhouse, he bolted straight for the grand piano," said Kathy. "We all sang along as he played, just as we had back in Alaska."  An Amblebrook resident who happened to be in the clubhouse that afternoon summed up her impression of adventure by saying, "Most people go on vacation and come back with a refrigerator magnet, and you come back with this!"  With that said, the group quickly decided to invite Ryan back to play a concert for the Amblebrook community, which was a favorite event in February of 2023.
When asked if they would go back to Alaska for another visit, each traveler responded with a resounding "Yes!"  If you enjoyed reading about this adventure, we hope you'll consider joining the Amblebrook community and taking trips of a lifetime with newfound friends.