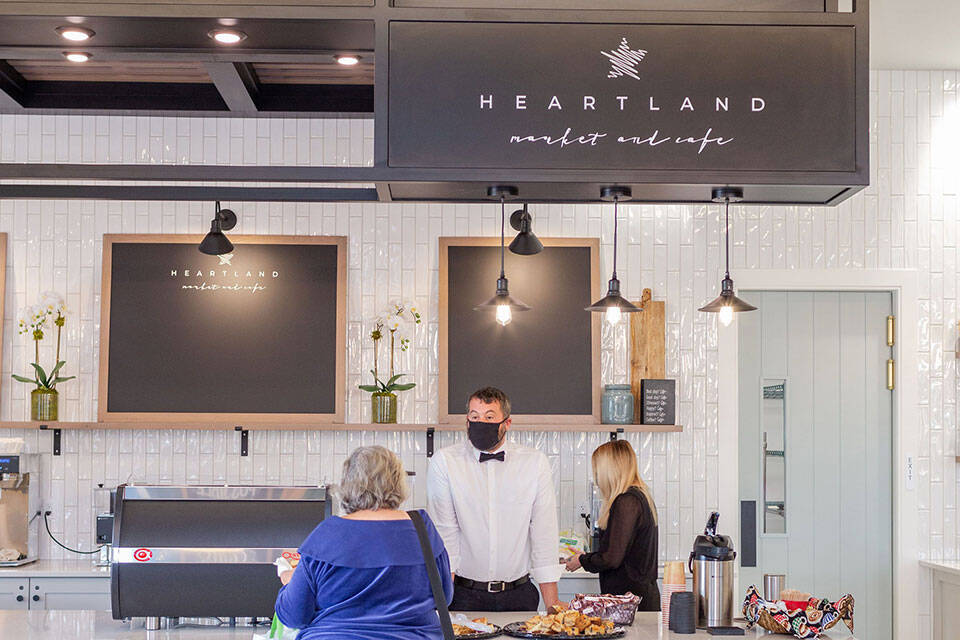 June 29, 2021
Meet Jake Schindel, Heartland Market and Café manager
Grab your favorite beverage and read on to learn more about Jake Schindel, Amblebrook's expert coffee brewmaster and Heartland Market and Café manager. When not at work, Jake and his wife, Tori, are enjoying Gettysburg life along with their family and a host of furry friends. 
Q. Tell us about your background. 
I grew up here in Gettysburg, only moving away a few times. My family and I started The Ragged Edge Coffee House while I was still attending Gettysburg College. Now, twenty years later, we have grown a lot in those two decades, expanding to four satellite locations along with a wholesale business and catering. Currently, we are in another phase of regrowth at our main location in downtown Gettysburg while opening our newest location at Amblebrook.
Q. What is your role with the Amblebrook team and how did you become involved with the community? 
I simply oversee the café business here in the Welcome Center and it's a pleasure to be part of this community. I have enjoyed over two years of working with the Amblebrook team to bring this unique project to fruition.
Q. Tell us about the Heartland Market and Café. What is the most popular beverage? 
As you might expect, the most popular item in the café is coffee—but this isn't just an ordinary cup of joe. The beans are organic and fair trade, and the coffee is roasted by us right here in Gettysburg. Many of the other items that we carry in the café and market are local so this place is special not just for us but for the larger community.
Q. Give us the inside scoop on your favorite activities or attractions in the Gettysburg area. 
Well, having a six‑month‑old right now doesn't leave a lot of time for extracurricular activities; however, we do enjoy a lot of walking. Gettysburg is a walkable community and Amblebrook is, too. I think it is very important to keep this type of activity as a priority when designing a community. Beyond that, I will say that the Gettysburg borough has been working to bring more businesses and entertainment to our area, which will add to the allure of our current live music and cultural opportunities.
Q. Tell us about your family, pets, or hobbies.
I live with my wife, Tori, my baby girl, Charlotte, my father, Flip, my dog, Becca, and two cats, Poe and Reggie. Right now my hobby is pretty much just being with my daughter as much as possible.
Many thanks to Jake for adding a little interest to our day—along with a truly incredible, hand‑crafted cup of coffee. We'll be back for more!