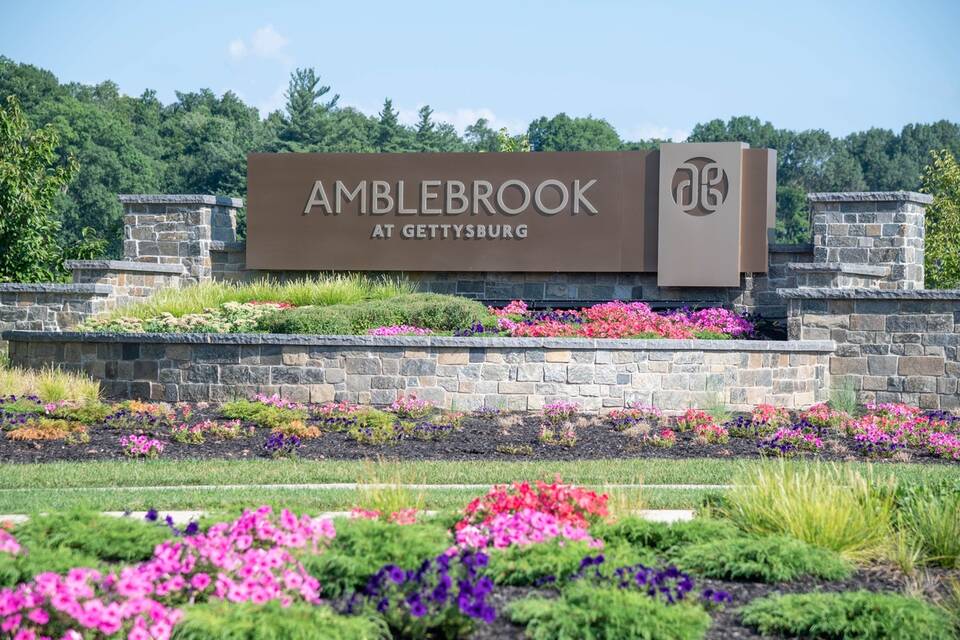 Check out these insights from our discussion with Pete Martin, Amblebrook Community Development Manager.
Q. What is your role at Amblebrook? 
A. I manage the development and implementation of the overall Amblebrook community. Throughout the entire process, I hire the contractors and oversee the work, from the installation of sewer pipes all the way through to the hanging of drapes in the clubhouse.
Q. Tell us about your family's connection to the Amblebrook site.  
A. My grandfather, A.B. Martin—officially Arthur Benjamin, but commonly known as Ben—purchased the property in 1928. Then my father continued the family legacy when he bought the land from his dad in the mid‑1960s. It was a dairy farm, and we had about 50‑60 milk cows along with a dry herd of about 20‑30 cows waiting to have calves. We also raised beef cattle, pigs, and chickens. 
Farming was intertwined with family life. When I was out driving today, I saw a boy sitting on this dad's lap, riding along on a combine. That absolutely was me growing up. As farm kids, we were always with our mom and dad. I was blessed to have that.
Today, Mom and Dad love driving through the Amblebrook neighborhood, and I understand my mom has already met some of the residents. If you see Lawrence and Sandy driving by, be sure to say hi to them.
Q. How long did you live on the farm?
A. I lived here until I was 18 when I went away to college at Temple University in Philadelphia. Having grown up in the country, it was my goal to see the city, and I certainly found it at Temple. My degree was in civil engineering, and after graduating, I moved to the Jersey shore and lived in Cape May Courthouse for a while.  My first engineering jobs were in the small towns along the Jersey shore.  I often teased my parents that I worked at the shore to make up for all the seaside vacations I missed out on, since our farming family didn't have the chance to get away for summers at the beach.
Q. How did you end up back in Gettysburg? 
A. I moved back here when my youngest son, Benjamin, was three years old and my second, Joshua, was on the way. I just decided that Gettysburg was where I wanted to raise my family.
I came back because I love my town. Gettysburg is awesome. No matter where I travel in the world, when I tell people I'm from Gettysburg, they immediately know it. I can be in Germany and mention Gettysburg, and someone will say, "Oh, yes! I know exactly where that is." I would describe Gettysburg as the best‑known small town in America.
I can't say enough about the people here. When I'm in the grocery store, everyone says hi.  I can always tell if someone is from out of town when they don't wave and say hi. I say hi to people I don't even know because that's just what we do here.
Q. What is your favorite thing to do in the Gettysburg area? 
A. There's no shortage of things to do here. The battlefield is one of my favorite places for a run, especially near the Peace Light. In addition, I hike, bike, and kayak. With the Appalachian Trail just to the north and west of us, depending on the direction you drive, you can be hiking there in 20 to 45 minutes. Or, you can be standing in a museum in DC in a little over an hour.  The access is incredible. Think about it: we are within 200 miles of a quarter of the U.S. population. It's a unique little spot.
Q. How would you complete this sentence: I bet you didn't know that I …?
A. Well, I'm a surfer … and I'm planning to surf this weekend with the hurricane coming up our way. I have a house at the Jersey shore and it's still one of my favorite places. Back in college, when my friends at Temple wanted to go surfing, it came natural to me because I grew up skateboarding … in fact, I had a skateboard ramp right here on the farm. Many of my friends did, too. We were an unlikely group of farmer‑skater‑dudes, and one of my friends is still a pro skateboarder.
Q. Are you involved in the local community?
A. Yes, giving back to the community is important to me. I was just talking to my son about this … I probably invest 5 to 15 hours of my time in community service every month. I'm Chairman of the Gettysburg‑Adams Chamber of Commerce, and I serve on the Economic Alliance and the Visitors Bureau. I can tell you from experience, when you give to this town, it gives back in a big way. People are always there for you. That's why a lot of people move here and immediately get involved.
Q. Is there anything else you'd like to share?
I hope the people moving to Amblebrook will connect with the greater Gettysburg community, because I know Gettysburg will welcome them with open arms.  And one more thing … get ready to experience some of the best sunsets ever. The colors in the sky at dusk were awesome when I was growing up here, and I think they get better every year.