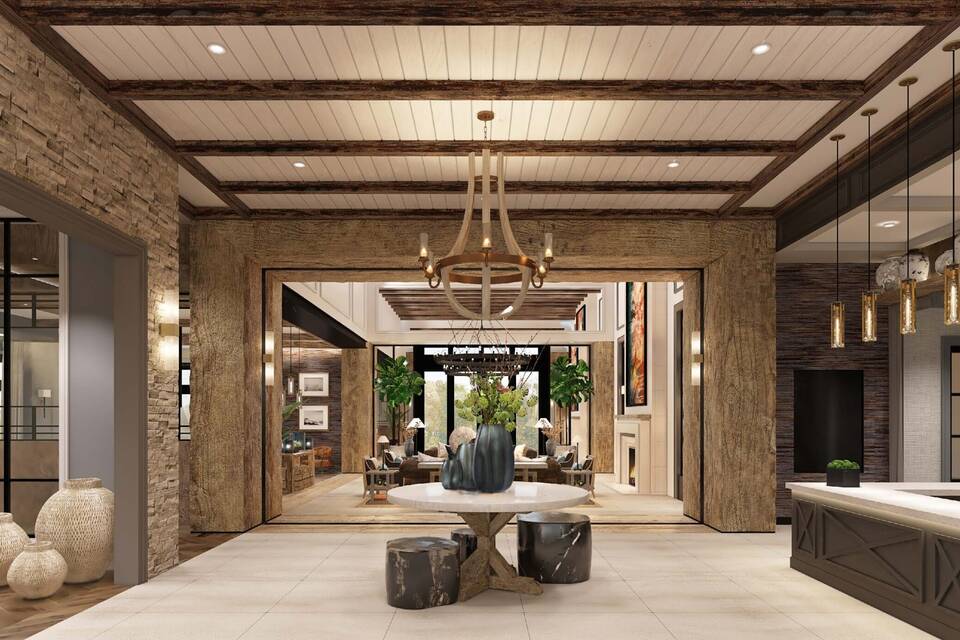 October 6, 2021
Rock Creek Clubhouse Opening, a Resort-Style Clubhouse Specially Designed for 55 and Over Living
If you've been touring new homes and communities in Pennsylvania, no doubt you've seen some attractive clubhouse buildings that promise amazing amenities for 55 and over living. Yet, a stylish clubhouse is only the beginning of creating a fulfilling lifestyle for active adults. The real magic happens when that unique space has the flexibility, capability, and energy to bring more joy to life. 
Welcome to the Rock Creek Clubhouse.
Specially designed for the lifestyle of today's active adults, Amblebrook's new 24,000 square‑foot super‑charged amenity, known as Rock Creek Clubhouse, will officially open to the public during a weekend filled with engaging festivities held on Saturday, October 23rd, and Sunday, October 24th. With so many included features and planned activities, we're excited to share the clubhouse with you and hope you'll RSVP to join in this spectacular event. But first, we'd like to tell you what makes this space so special, and explain why Rock Creek Clubhouse has some of the most sought‑after resort‑style amenities in Pennsylvania. 
Before we designed our clubhouse and broke ground on the building, we spent time listening to people just like you who were searching for new homes in Gettysburg, Pennsylvania. We asked about plans, learned what was expected, and were inspired by dreams.  The resulting clubhouse is a remarkable place with down‑to‑earth features and customized spaces—inside and out—that are just right for foodies, art aficionados, beer geeks, movie buffs, sports fans, card players, and so much more. Here, resort‑style amenities and state‑of‑the‑art details come together in a space that—oh, by the way—also manages to strike that ideal balance between sophisticated elegance and laid‑back fun.  
What does all this mean for people searching for the best 55+ community in PA?  Let's take a closer look.
What is resort‑style?
You've probably heard this term before, but at Amblebrook, we take these words to heart. To us, resort‑style means you'll live like you're on vacation every day. And we're talking about the really good parts of vacation, like relaxing by the pool, discovering new adventures, and meeting up with friends for drinks just because you can.  That means Amblebrook amenities are more than a list of features; they are specially selected and thoughtfully designed to inspire a rewarding, joy‑filled lifestyle.
How can a clubhouse be sophisticated‑elegant and also laid‑back‑casual?
It's easy to feel good when you're in beautiful surroundings. At Amblebrook, you'll spend your time in bright learning spaces, chic lounges, and inspiring studios. That's the sophisticated part. Yet, at the same time, the environment is cozy and inviting, making it easy to be yourself and have fun on your own terms.  You can shoot a game of pool with your buddies, meet for cocktails on the patio, or enjoy a weekly game night. From the first time you step in, you'll feel right at home.
Why do the details matter?
We believe the difference is often found in small things, so we sweat the details. That means this new home community in Gettysburg includes state‑of‑the‑art flat screens in the Sage Theater learning center along with luxurious lounge chairs that also make it the perfect place to watch the big game with friends—or treat the grandkids to a special movie experience.  The Canvas Studio is so much more than an arts and crafts room—it features everything you need to make your own pottery, enroll in a new class, or enjoy paint nights with friends.  Store your favorite beverages in your private wine locker and toast special occasions with friends in the bar and lounge. In the Indigo Game Room, you'll find posh card tables and thoughtful details that make the space ideally suited for poker tournaments, Mahjong gatherings, and anything else you can imagine.  
When it comes to explaining how Amblebrook's clubhouse has redefined 55 and over living, one of our team members summed it up best: "Rock Creek is more than a clubhouse because it was inspired by the very people who will use it, day in and day out.  There is no doubt that it will be the heart and soul of our community for years to come."
Want to learn more? RSVP for a Rock Creek Clubhouse opening event.
To mark the clubhouse opening, a series of special events have been planned, beginning with a VIP tour for residents on Thursday, October 21st, continuing with a Realtor brunch on Friday the 22nd, and culminating with a grand celebration for the general public on the weekend of October 23rd and 24th.
Throughout the festive weekend, visitors will be treated to a full tour of the new clubhouse that includes hands‑on experiences and engaging activities, including cooking demos, games of chance, live music, signature cocktails, make‑and‑take crafts, and more. In addition, our three award‑winning Gettysburg, PA home builders will be hosting special model tours and offering limited‑time incentives for event attendees. Don't miss out on the fun—RSVP today.
THURSDAY, OCTOBER 21 @ 7 P.M. – RESIDENT VIP EVENT
Residents get a first look at the new clubhouse at a Mix and Mingle Happy Hour.
FRIDAY, OCTOBER 22 @ 10 A.M. – REALTOR BRUNCH
Realtors enjoy a private clubhouse tour and light fare.
FRIDAY, OCTOBER 22 @ 2 P.M. – RIBBON‑CUTTING CEREMONY‑ 
Residents, builders, partners, and friends gather to toast the new clubhouse.
SATURDAY, OCTOBER 23 FROM 10 A.M. TO 5 P.M. – ROCK CREEK CLUBHOUSE OPENING EVENT 
Open to the public – All visitors get a full preview of the clubhouse showcasing rooms, amenities, and activities.
SUNDAY, OCTOBER 24 FROM 11 A.M. TO 4 P.M. – ROCK CREEK CLUBHOUSE OPENING EVENT 
Open to the public – All visitors get a full preview of the clubhouse showcasing rooms, amenities, and activities. Residents are encouraged to invite family and friends to the community, with special events planned for grandkids.
We invite you to tour the Rock Creek Clubhouse and discover more room for joy.
Be sure to RSVP and join us as we open the Rock Creek Clubhouse with a multi‑day celebration that makes it easy for you to experience the Amblebrook amenities for yourself.  Check here for dates, times, and details so you can come when you want and stay as long as you'd like.