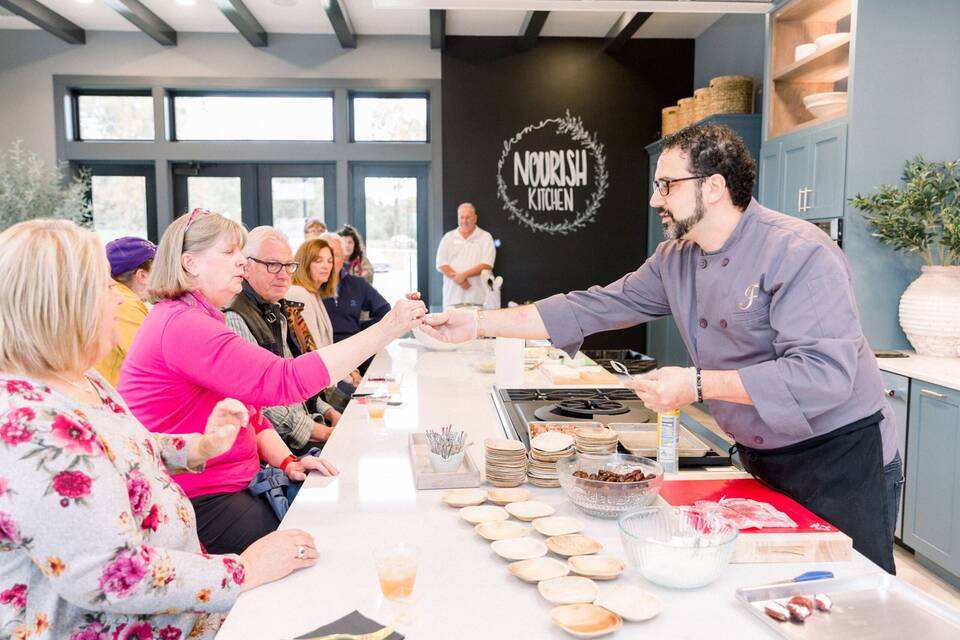 November 15, 2021
Get the Inside Scoop on Exciting Community Events in Gettysburg, PA
Have you heard what's happening at Amblebrook, Gettysburg's premier active adult community? The answer is a lot! From gourmet cooking demos and Mahjong game nights to special celebrations and happy hour gatherings, Amblebrook is known for an abundance of energy, activity, and fun. Throughout every season, our lifestyle program features engaging amenities and connects you to community events in Gettysburg that are designed for everyday joy.
Love the thrill of learning and adventure?
Amblebrook is the perfect place for lifelong learners. Whether you're an art aficionado, a history buff, or simply a lover of all‑things‑new, you'll feel right at home at Rock Creek Clubhouse.  Fire up the kiln to create a vase for spring's first flowers or join in a paint and sip night in the Canvas Studio, enroll in a yoga or Zumba class, or visit Amblebrook Central to learn about events in Gettysburg and schedule a tour of the battlefields, museums, wineries, distilleries, and more. 
At Amblebrook, you'll find a club for every interest, and if one is missing, we'll invent it.  We have clubs centered around books, Scrabble, wine, movies, cooking/baking, photography, and more.  Have you thought of a club we missed? Let us know and we'll get it started.  
As a favorite 55+ community in Gettysburg, PA, our iconic location makes it easy to keep your spirit of adventure going.  In addition to attending a variety of festivals and events centered around the Gettysburg lifestyle, you'll find opportunities to get involved and give back to the community around you.  Join the Friends of Gettysburg, a group that helps to preserve the area's rich heritage for future generations.  This hands‑on troupe pays it forward by assisting with building, painting, and restoration projects that support the Gettysburg Foundation's partnership with the National Park Service. By the way, be sure to treat the grandkids to a day at the foundation's new, interactive, family‑friendly museum featuring the Children of Gettysburg 1863 located in the heart of downtown.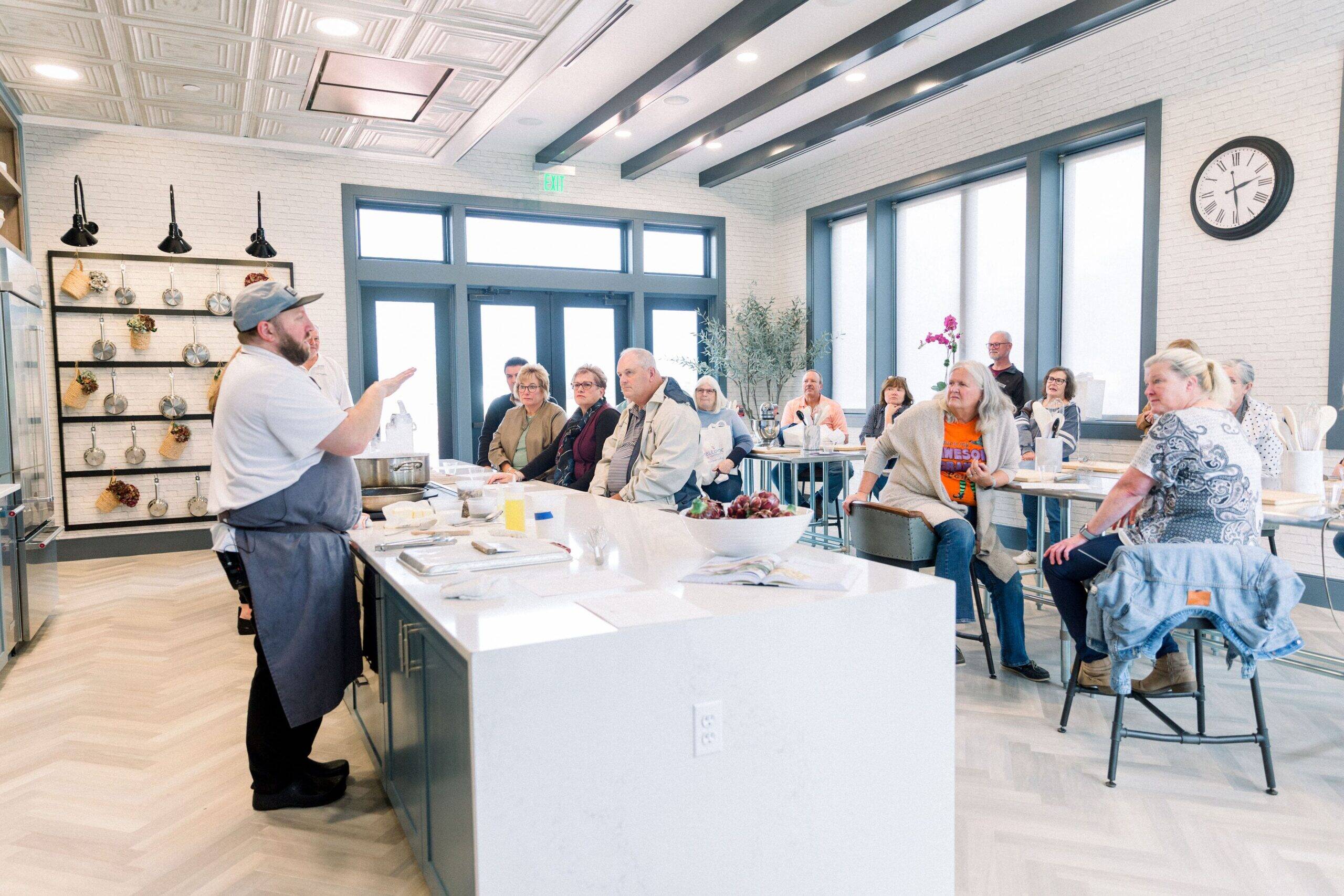 Are you a self‑described foodie? 
If so, you're sure to love our focus on farm‑to‑table living with opportunities to join in many activities that take place at Nourish, our fully equipped demonstration kitchen. Artfully situated in a spacious area of Rock Creek Clubhouse, this state‑of‑the‑art culinary venue is where you'll meet with fellow foodies to share recipes, learn techniques from visiting chefs, and score new ideas for daily dinners. 
Here, cutting‑edge technology includes specially designed workstations gathered around a central kitchen with a large‑screen display overhead, so you won't miss a single step.  Live‑streaming capabilities allow you to participate in scheduled demonstrations from the comfort of home. Best of all, we've partnered with local growers to provide easy access to Pennsylvania's farm‑fresh bounty. Our onsite Harvest House farmers market features the latest dairy products, meats, fruits, vegetables and more. Request a calendar for dates, times, and details about our on‑site activities and community events in Gettysburg, PA.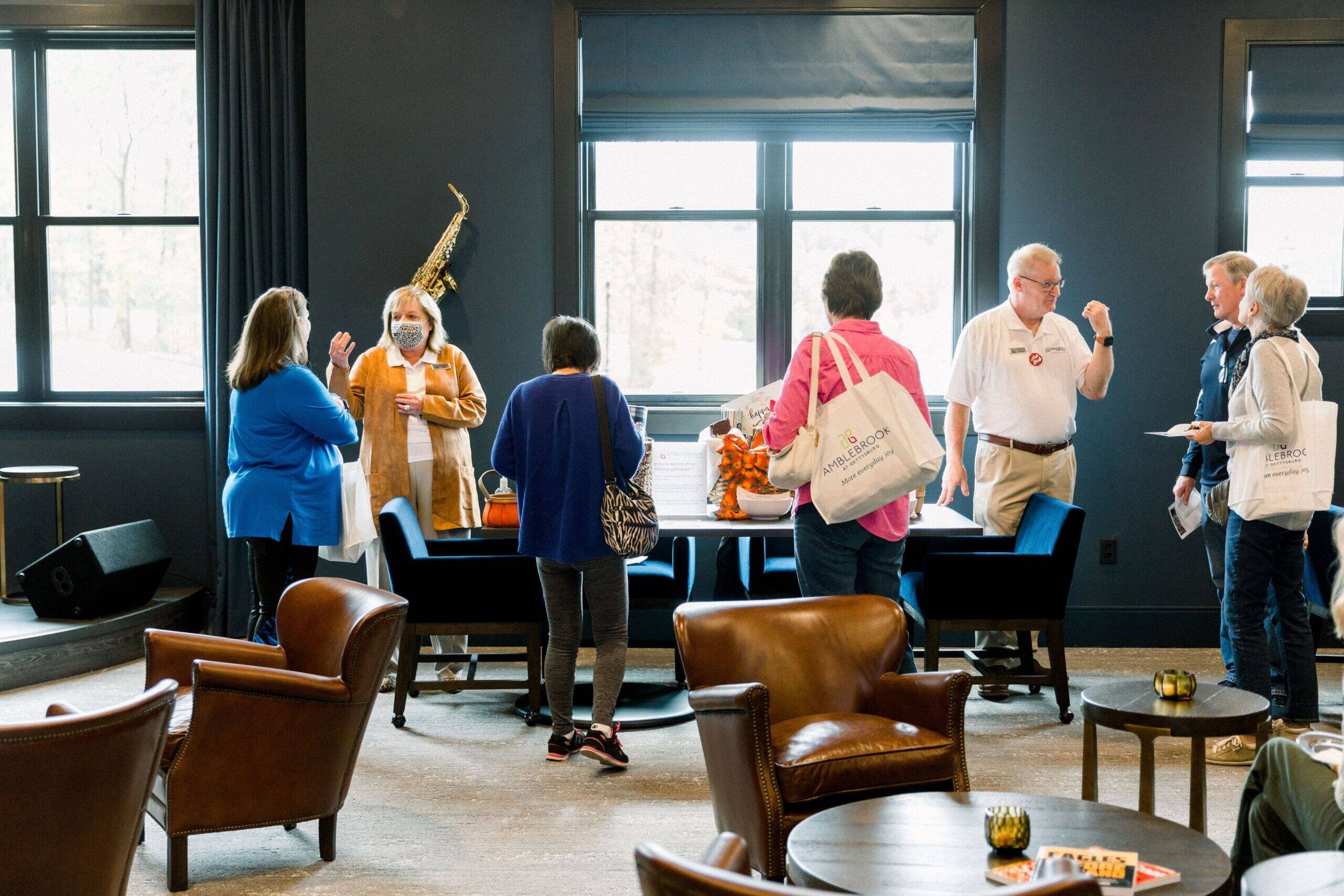 Is music your thing?
Discover an entire room in the clubhouse dedicated to your main interest.  Whether you're jamming with other musicians, grabbing the mic at karaoke night, or dressing the part at 70s Night in mid‑November, it's easy to enjoy the vibe at the Tempo Lounge.  Thoughtfully designed to mimic the relaxed atmosphere of a casual local club, this unique space is already a community favorite.      
In addition to the Tempo Lounge, our expansive campus includes several areas where local artists join in our events to share their talents and introduce you to the unique Gettysburg lifestyle.  Performances take place inside the Harvest House or on our outdoor patios—and in the future, they'll also happen on the poolside deck or under the stars in the Amphitheatre.  By the way, did you know our Bar and Lounge features an authentic player piano?
Want to experience a day in the life at Amblebrook? 
With an abundance of fun‑loving places and laid‑back spaces, Amblebrook is a unique 55+ community in Gettysburg where you can enjoy more of what matters most to you.  Whether you want to settle in and relax or jump in and get involved, we know you'll feel right at home at Amblebrook.